NAPLES INT'L APT:

Naples is served by the International airport Capodichino.

There are direct flights from/to main EU countries, US,

NYC with more than 70 daily international flights every day.

HIGH SPEED TRAIN:

1 h from/to Rome - 2 h 30 min from/to Florence

4h 15 min from/to Milan - hourly departures
Dedicated shuttle buses will be available for Euromembrane 2022 participants on the day of arrival (November 20, 2022) and
departure (November 24 and 25, 2022) according to the following schedule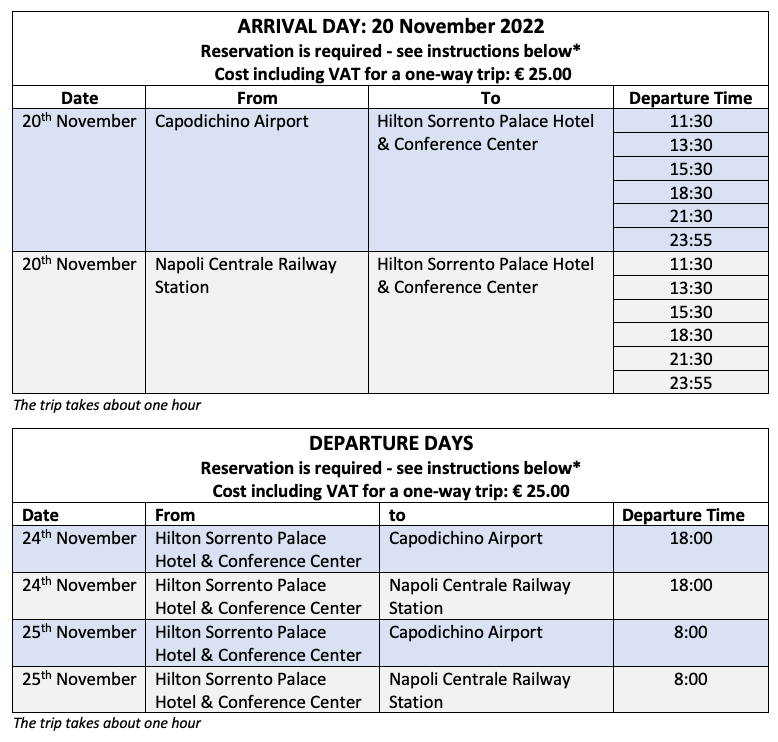 *Participants can book the shuttle bus by filling out the form EUROMEMBRANE2022_TRANSFER BOOKING FORM (click on HERE to download the form)
and sending it by e-mail to the Russo Agency at the following addresses: This email address is being protected from spambots. You need JavaScript enabled to view it. and This email address is being protected from spambots. You need JavaScript enabled to view it.
Phone: +39 081 8071845
Deadline for booking the shuttle bus: 15 November 2022.
For arrival and departure on different times and dates participants should book privately the transfer (download INDIVIDUAL TRANSFER BOOKING FORM HERE)
The costs of one-way transfer (including 10% VAT and one hour parking) are:
€ 129,00 for a car with max 3 passengers;
€ 199,00 for a minibus with max 7 passengers;
night supplement (from 19.30 to 07.30) € 45,00
Cancellation and waiting conditions:
For cancellations made up to 24 hours before transfer, no penalty will be charged;
For cancellations made after 24 hours or no-show, the full amount of the transfer will be charged;
For waiting longer than 2 hours, double transfer will be charged.
PUBBLIC BUSES are available from the Airport to Sorrento Train Station

every two hours (from 09:00am until 21.30) and return from 6.30 am to 16:30.

It can bought directly on the bus.